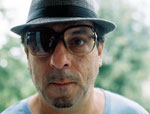 Frank London (USA; trumpet, composer)
Grammy award winning composer - trumpeter - teacher Frank London is a founder and member of The Klezmatics, and leads many cutting edge groups exploring Jewish music in all of its permutations. Critic Stephen Fruitman writes, "Frank London is new Jewish musics' heart, soul and yiddishe kop" and Seth Rogovoy calls his A Night in the Old Marketplace "the best Jewish musical since Fiddler."
Frank London's Klezmer Brass Allstars CD, Carnival Conspiracy, was Rolling Stone's #1 Non- English recording of 2006. The Shekhinah Big Band ("celestial, volcanic, suspenseful, orthodox, reformed, and body-rocking" - Village Voice) has been in residency at John Zorn's club, The Stone, in NYC. His opera about the Soviet Yiddish theater, Green Violin, was performed in Amsterdam, St. Petersburg and at New York's Jewish Museum. His first symphony, 1001 Voices, was premiered by the Queens Symphony Orchestra. He has explored Jewish jazz with Hasidic New Wave, cantorial music with Jeremiah Lockwood on Songs of Zebulon; and mystical music on tsuker-zis, Nigunim and The Zmiros Project.
He is Artistic Director of KlezKanada. With artist Forgacs Peter, the Klezmatics created the installation, "Letters from Afar", which was the opening exhibition at Warsaw's Museum of the History of Jews in Poland.

Of his solo CD release, Hazonos (with Cantor Jacob Mendelson), Stephen Silberman of Wired Magazine writes, "One of the Most Stunning Albums of the Year - 5 Stars. On this album, Frank London has fused the Jewish art of cantorial singing with instrumental accompaniment that suggests both the ancient, soul-wrenching melodies of the High Holy Days and the most lyrical and reflective avant-garde jazz. The result is one of the most important albums of 2005 -- a giant step forward for London, for John Zorn's Tzadik label, and for jazz itself."