YSW-Team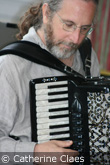 Dr. Alan Bern
is co-founder and chair of othermusic e.V. and creator and artistic director of Yiddish Summer Weimar and Winter Edition. He is a composer/arranger, pianist, accordionist, educator, cultural activist and philosopher.
He is co-founder and director of "Brave Old World," founder and director of "The Other Europeans" and "Diaspora Redux," and he also performs with Bern, Brody & Rodach and with Guy Klucevsek.
His education included classical piano with Paul Badura-Skoda and Leonard Shure, jazz with Karl Berger, the Art Ensemble of Chicago, Anthony Braxton and others, contemporary music with John Cage, Frederic Rzewski, Joel Hoffman and others, and philosophy and cognitive science with Dan Dennett. He received his master's degree in philosophy and his doctorate in music composition. 

In 2009, he was given the Ruth Lifetime Achievement Award for his work as a musician and educator and achievement with "Brave Old World".

>> www.alanbern.net

Katrin Füllsack
has been part of the Yiddish Summer Weimar management team since 2004, and part of the Winter Edition management team since 2008. She has been an associate for press and public relations in the Department of Planning and Communication at the Erfurt Technical University, and has studied journalism at the German Journalism School (Berlin) since 2007. Between 2004-2006 she worked in the Kulturbüro LaRete (Ettersburg). Before that, she studied art history and sociology from 1996-2004 at the University of Jena. Her master's thesis was titled "Vogue 1950-70. The Staging of Femininity. A visual history of the development of fashion photography."
She is responsible for public relations and project management.

In summer 2014, Katrin is going to leave Yiddish Summer for a while to be on parental leave with her second child.

Judith Trechsler
grew up and went to school in the beautiful region of Hesse. After spending some time in New Zealand, she started studying applied cultural studies at the University of Lüneburg. In 2009 she visited Weimar for the first time, taking care of a group of international young people during a work camp at Yiddish Summer. Having once experienced the extraordinary atmosphere of Yiddish Summer, Judith returned in the following years to support the management team during the summer.

At the beginning of 2013 she completed her master's degree (MA) and returned to Weimar, after having spent three months in Italy doing volunteer work.

Following a one-year traineeship program at othermusic e.V., Judith has taken over the project management of Yiddish Summer 2014, filling in for Katrin Füllsack during her parental leave.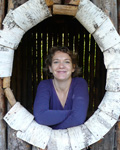 Katrin Petlusch
I am an art historian and arts administrator. After completing my Master's degree in Art History, Psychology and History at the Friedrich-Schiller-University in Jena, Germany in 2001, I began work as an arts administrator for Kulturbüro LaRete, Weimar, organizing European exhibitions (überMENSCHEN, EUROPA VIDEO ARTE, Coniugazioni) and festivals (Notti Italiane, Klezmer Wochen Weimar, Yiddish Summer Weimar). 

I'm also responsible for concept development, fundraising, public relations and management for several non-profit organizations (othermusic e.V., DIGIT Deutsch-Italienische Gesellschaft in Thüringen e.V., VDIG Vereinigung Deutsch-Italienischer Kultur-Gesellschaften e.V., VDKC Verband Deutscher Konzertchöre e.V., Kuratorium Schloss Ettersburg e.V.). From 2007 to 2010 I was coordinator of the 90th anniversary of the Bauhaus (Bauhausjahr 2009) in the "ImPuls-Region Weimar - Jena - Erfurt". 
Since 2002 I have been connected with and dedicated to Yiddish Summer Weimar (at that time "Klezmer Wochen Weimar") and I am a founding member of othermusic e.V. and since 2005 member of the board. 


From March 2012 through April 2013 I worked on a very special "project," devoting my time to my baby, Nils. I am now back on board and am taking care of the participants.
Eike Küstner
studied art history and German studies in Erfurt und Jena. She was born in Bautzen and for many years has lived with her ever-growing family in Erfurt, where she never ceases to be amazed by the town's rich and vibrant Jewish life. This is where she finds the material for her many activities – as a publicist, a cultural manager, a connoisseur, a cultural mediator, and as a giver and taker.
She works freelance under the label "Agentur Kultur – Rausch" as a publicist for "Stattreisen Erfurt – Geschichten am Wege (Stories from the Wayside)" where she also designs and organizes tours and trainings and other various projects. Following previous assignments that included working in the Gera Press Office for the Bundesgartenschau (German National Garden Show), for the Jewish-Israeli Cultural Days in Thuringia, the Old Synagogue in Erfurt, the Kulturjournal Mittelthüringen (Cultural Journal of Central Thuringia), she is now excited about taking on public relations for Yiddish Summer, and she is looking forward to an invigorating festival!

Hannah Rapp und Karoline Bauer
Hannah and Karo started their volunteer year at othermusic e.V. on September 1.
Having successfully completed her schooling at the music boarding school "Landesschule Pforta" in Saxony-Anhalt, Karo is now using her volunteer year to gain experience for the world of work. She plays the piano and double bass which she'll surely integrate into Yiddish Summer.
Both Karo and Hannah value the practical aspect of their volunteer year at other music compared with the more theoretical approach typical of most schools and universities.
Hannah in particular appreciates the practical aspect of the work. After her first experiences at university she decided to work in real life for a while in order to find out what she would like to do as a profession. Before her volunteer year started, Hannah had already done an internship at other music e.V. She was also involved in planning this year's Yiddish Summer Opening Event, which she found a very enjoyable experience.
The other music team warmly welcomes Hannah and Karo and we all look forward to a great year together.

Sayumi Yoshida
studied Visual Communication and worked in a Tokyo design agency before coming to Berlin, where she studied at the Hochschule der Künste (today the Universität der Künste). After obtaining her degree in 1993, she worked as an artist on sound and site installations and also as a freelance graphic designer.

Since 2010, she has been responsible for the visual image of Yiddish Summer, Winter Edition and othermusic e.V., including internet presence, posters, t-shirts and more. 
She has long been interested in Yiddish dance and has given workshops on the subject in Japan at "Osaka University" and "Japanese‐Jewish Friendship and Study Society in Kobe."
Since 2006, she's been a member of the Berlin-based dance ensemble "TarantaScalza" (Tarantella – traditional Southern Italian dance) with whom she has performed at many festivals.

>> www.talkingsine.de
>> www.tarantella-scalza.de