August 5, Tue 8 p.m. @mon ami [>> about mon ami]
Figelin & Kol Ishe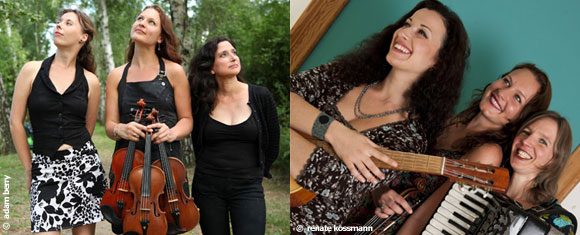 Trio Figelin – Tsofn daytshe un Yidishe lider un tants melodyes
3 women, 2 cultures, 1 love…

…is the motto of three of the most exciting fiddle players on today's
international folk music scene.

North German and Yiddish folk music, each on its own already a melting pot
of exuberant dance tunes and gripping ballads. When you put them
together, the effect is explosive.

And when three such inspired and excellent representatives of their
disciplines play this music, there's no holding back.

The result speaks for itself: Wild fiddles, earthy grooves – three fiddles, three voices, and the vibrant sound of centuries' old dance music.

Based in New York, Deborah Strauss has been a world star on the klezmer fiddle for over 20 years. The winner of multiple awards, she is a much loved and respected artist and teacher at festivals and workshops around the globe.

Berlin fiddle player Vivien Zeller has made a unique name for herself as the soul of North German dance music. Together with the band Kwart she was honored with the German RUTH – World Music Prize.

Originally from Australia, Vanessa Vromans has quickly fiddled her way into the hearts of klezmer fans and leading artists alike. An expert on the klezmer fiddle, she also loves unconventional musical experiments.
Kol Ishe – Women's voices break borders (ISR/UA/AUS/NL/DE)

The sound of women singing had the honor of being banned in ancient Jewry because of its powers of seduction. Luckily, women today can develop their voices to their full potential, and it is fitting that three prominent female representatives of the international Klezmer scene have chosen to sing their ecstatic songs under the name of the ancient ban.

The three don't only go well beyond the boundaries of the old interdict; with lightness and chutzpah they break conventional musical borders. Bygone voices of Jewish women composers and poets are juxtaposed with original compositions and new arrangements to give a playful, sensual and sassy narrative of the eternal circle of life.

It goes without saying that national borders are also irrelevant. The three artists bring with them a blend of Australian, German, Israeli, Dutch and Ukrainian influences. Classical sounds shine out alongside powerful folk music. An eclectic mix of songs keep company with ballads and vibrant dance music, before suddenly yielding to moving a-cappella songs.

Kol Ishe – three women, five nations and creativity that tears down borders.

The musicians
Svetlana Kundish Voice, guitar / Vanessa Vromans Violin, voice / Sanne Möricke Accordion, voice

sound samples https://soundcloud.com/kol-ishe
August 6, Wed 8 p.m. @mon ami
modern klezmer quartet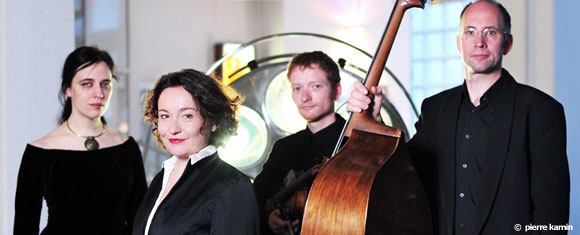 The Shostakovich Project

Crossing borders on new paths: klezmer is the dance and festival music of eastern European Jews. The modern klezmer quartet combines this music with classical and contemporary currents of western European music, venturing beyond traditional borders, without severing the traditional roots. For the Shostakovich project "Songs from Jewish Folk Poetry", the modern klezmer quartet has worked on the song cycle and researched the Yiddish originals in archives.
The musicians are: Andrea Pancur (voice), Johannes Paul Gräßer (violin), Franka Lampe (accordion) and Alex Hass (bass).

www.modern-klezmer-quartet.de
August 7, Thu 8 p.m. @mon ami
Kahn-Lurje Duo & Fayvish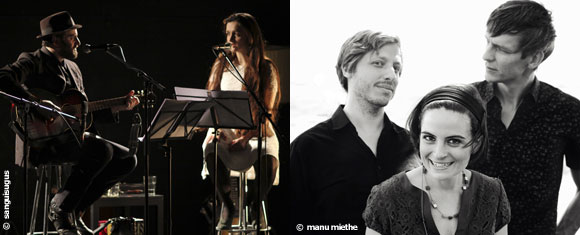 Daniel Kahn & Sasha Lurje
STRANGELOVESONGS – fremde Liebe, fremde Lieder, fremde Sprachen
The Specialists for Desire, Daniel Kahn (The Painted Bird) and Sasha Lurje (Forshpil), invite you to their program of the most beautiful malicious songs. Laugh yourself to death when you hear about lovesickness, lust, murder, nature and weltschmerz, in English Yiddish, Ukranian and Russian.

The specialists in the skill of translation switch the song lyrics back and forth, and their art, ranging from classic Tom Waits and Berthold Brecht in Yiddish to Russian ballads in English accompanied on the accordion, guitar, mouth organ, ukulele, autoharp and, of course, heart-rending singing, is guaranteed to give you goose bumps.
Fayvish
Where do you go to if you want to satisfy your burning love for singer-songwriters, pop, and Yiddish poetry? The answer to this seemingly desperate despairing question can be found here: Yiddpop. The term was coined by creative artist Fabian Schnedler in 2007 when he decided to blend his three favorite genres and, without further ado, formed Fayvish: Fabian Schnedler (vocals and guitar), Steffen Illner (double bass), and Lucia Martínez (percussion) put together and quote Yiddish poetry and music and place them in a new context. The songs are tales of life, of farewells, and of the small and big revolutions that have to be fought over and again. Fabian Schnedler sings these poems, written by Yiddish avant-garde poets such as Moishe Kulbak, An-Ski or Peretz Markish, and by himself, with an irresistible joy in the use of both the German and Yiddish language.

"This band's music reminds me of the Beatnik sounds of the 1950s. I'm pleased that these musicians are not only interested in the music but also in the lyrics of the songs and poems, so that they feel they need to add their own words." (Itzik Gottesman, Yiddish Forward New York)

"This is the most individual, natural, flowing, and deeply connected take on Yiddish language and song I've heard in a long, long time." (Alan Bern)

www.fayvish.de
August 8, Fri 8.p.m. @mon ami
Kràsa Quartet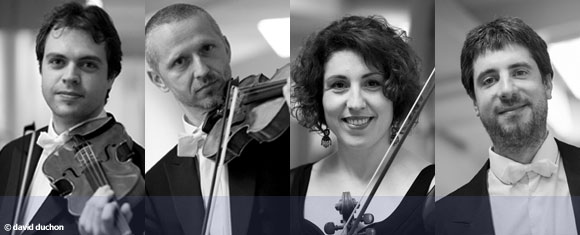 This concert is divided in two parts, with different and at the same time similar topics.
The first part consists of music for strings composed by Hans Krása, Erwin Schulhoff and Viktor Ullmann.
Krása composed his string trio (his last piece of music) in Theresienstadt concentration camp. It was here that Viktor Ullmann wrote his String Quartet N°3, before he was deported by the Nazis to Auschwitz-Birkenau, where he was murdered. Erwin Schulhoff's String Quartet N°1 was written in 1924, 17 years before he was deported to Wülzburg concentration camp, where he died on August 18, 1942..
The music of these three European artists – all of them declared dissidents by their regimes – displays no direct links with traditional Jewish music such as klezmer or Hassidic; what links the three is that they were all Jewish artists from central Europe whose destiny was the Shoah.
In the second half of the concert string quartets by two other composers can be heard. Alfred Schnittke (who was Jewish but converted to Christianity) and Dimitri Shostakovich (who was not Jewish) were both Russians who found themselves in conflict with Soviet bureaucracy – which in a way links them to the first group of composers.
The two string quartets heard here are linked musically. Alfred Schnittke quotes excerpts from classical music in his third string quartet, Dimitri Shostakovich quotes Jewish folk music in his eighth quartet. He also uses a theme based on his initials: DSCH – a motif that becomes one of the classical quotes in Schnittke's 3rd quartet.

Ludovic Lantner: violin
Sébastien Plays: violin
Manielle Renaud: viola
Mathieu Chastagnol: cello

PROGRAM:
- Hans Krása: Passacaglia and Fugue for string trio
- Erwin Schulhoff: String Quartet N° 1
- Victor Ullmann: String Quartet N°3
-- INTERVAL --
- Alfred Schnittke: String Quartet N° 3
- Dimitri Shostakovich string quartet N°8
August 9, Sat 8 p.m. @mon ami
Arkady Gendler Project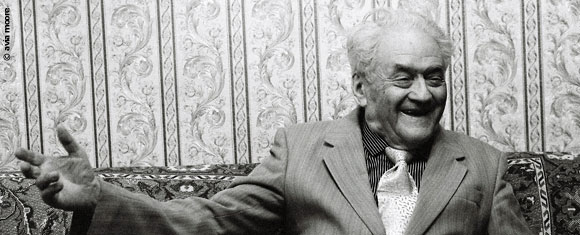 The Yiddish Songs of Arkady Gendler

Arkady Gendler (Zaporozhye, UA) is one of the greatest living treasures of Yiddish song, language and culture. Gendler was born in the town of Soroca (Bessarabia) in 1921, the tenth child in a family where everyone spoke and sang in Yiddish. Gendler is a cherished performer with an immeasurably rich repertoire, who later in his life started composing himself, creating songs of exceptional musical and poetic quality.
After the collapse of the Soviet system, he played a pivotal role in the rebirth of Yiddish and Jewish culture at home and abroad; he became an important teacher and mentor, travelling the festivals of the Yiddish world. Arkady taught and performed at Yiddish Summer Weimar in 2006 and 2009.

In 2011, Christian Dawid launched a project to document and arrange Gendler's original work, and eventually record him singing his songs, many of which had not been recorded or even performed before. This year's concert in Weimar presents some of the finest singers in Yiddish song, all with a personal connection to Arkady Gendler, performing Dawid's original arrangements in a tribute to a great singer, teacher and human being.

Featuring Svetlana Kundish, Andrea Pancur, Sasha Lurje, Fabian Schnedler, Daniel Kahn, Yuri Vedenyapin, Alan Bern, Christian Dawid, Alexey Rozov, Yulia Yabakova and others

http://arkadygendler.konsonans.com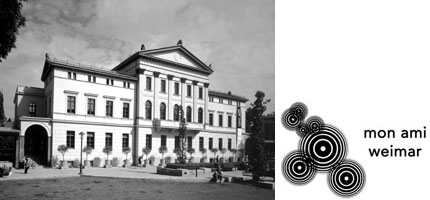 The youth and cultural center mon ami is Weimar's communal socio-cultural hub. In addition to a varied program of events, mon ami provides a space for many varied groups and initiatives including choirs, theater and sports groups, circus artists, gaming enthusiasts, citizens' alliances and much more.