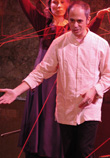 Avishai Fisz (Israel; yiddish language)
is a singer, musician, composer, actor and linguist active in the Eastern European as well as modern and avant-garde musical scenes in Israel and worldwide.

He performs extensively, both Jewish traditional songs as well as modern works by some of Israel's leading composers. Over the recent years he collaborates with acclaimed composer Andre Hajdu that also composed especially for him a chamber piece, based on ancient Yiddish folksongs, named "Der Balegole" (The Horseman). Other works that were composed for him include "Cirk Wangoly" (Wangoly Circus) – a grotesque song cycle after texts of Yisroel Rabon (1898 Lodz - 1941 Ponar) by composer Tamar Gafni and the opera ME/ME by composer Kiki Huss. More recent stage projects include "Trio Carpion" – a lush trio performing Ashkenazi music -with violinist Daniel Hoffman and Eupfonium player Gershon Waiserfirer, "Di Bloye Kats" (The Blue Cat) – a cabaret extravaganza of Yiddish light songs of the 20's-30's, with singer Ruth Levin. He is also the stage composer of the critically acclaimed Jerusalem Theatre Company's premier of "Shulem" and "Rondo".

As an actor, he performed with Habima, Israel's national theatre for ten years. Avishai taught Yiddish language and literature at the Trier University, Germany. He is often invited to lecture on Yiddish folksongs at the universities of Hamburg, Vilnius and Tel-Aviv.