Preview
Yiddish Summer Weimar 2016!
July 6 - August 13
Bobe Mayses*?
European Legends and Yiddish Border-Crossings
in the Other Music Academy (OMA)
Thanks to a very generous grant from the Kulturstiftung des Bundes, we're already able to announce the program for Yiddish Summer 2016. And what a program it's going to be! Take a look:
Dates 2016

Workshops

| | |
| --- | --- |
| Aug 3 - 5 | The Art of Storytelling |
| Jul 31 - Aug 2 | The Art of Badkhones |
| Jul 10 - 17 | Yiddish Song |
| Jul 23 - 30 | Instrumental Music |
| Jul 24 - 29 | Yiddish Children's Songs |
| Aug 7 - 12 | Dance Music |
| Aug 8 - 12 | Yiddish Dance |
| Aug 8 - 12 | Introduction to Klezmer & Yiddish Song |
| Aug 11 - 13 | Yiddish Choir |
| Jul 10 - 16 | Yiddish Language, beginning |
| Jul 17 - 23 | Yiddish Language, intermediate |
| Jul 24 - 30 | Yiddish Language, advanced |
| | |
Festival Week

Aug 1 - 6 Bobe Mayses and Gilgul premieres, evening concerts and many more offerings (Mini-Workshops, Introductions, Meet-the-artist and more) during the day.

Conference
Jul 19 - 22 Yiddish Historically Informed Perfomance (YHIP)

Theatre Project
Jul 9 - Aug 6 Bobe Mayses with Jenny Romaine (director), Michael Wex (dramaturgie) and Alan Bern (music), among others

Dance Project
Jul 21 - Aug 6 Gilgul with Steven Lee Weintraub (choreography) and Zilien Biret (music)
During Yiddish Summer Weimar 2016, we'll create two new large-scale performance pieces with directing teams from North America and young artists from all over Europe, produce the world's first symposium on Yiddish Historically Informed Performance (YHIP) and expand both the workshops and the Festival Week.
Bobe mayses? No, Yiddish Summer Weimar 2016!! So check out the plans below, spread the word, come join us, and keep your eye on this website for breaking news! 





We're looking for young (and young-at-heart) actors, dancers, musicians, singers, puppet performers, circus artists and more, for two new performance projects to be created during YSW 2016:

Bobe Mayses: Puppet theater/installation/performance piece created and directed by Jenny Romaine (New York), with text by Michael Wex (Toronto) and music by Alan Bern(Berlin), inspired by the Bovo Bukh, 1507, by Elia Levita Bakhur. July 9 - August 6, 2016. 


Gilgul: Contemporary dance piece based on Yiddish traditional dance, created and directed by Steven Lee Weintraub (Philadelphia), with music by Zilien Biret (Montreal). July 21- August 6, 2016.

AND… 

Scholars and participants for the first Yiddish Summer Weimar conference on Yiddish Historically Informed Performance (YHIP) in instrumental and vocal music and dance, organized by Diana Matut (Halle) and Andreas Schmitges (Cologne/Halle). July 19-22, 2016. 

AND… 

Participants for workshops in Yiddish language, storytelling, badkhones, klezmer and Yiddish vocal music, dance, cooking and more.
* Bobe Mayse is the Yiddish term for an 'old wives' tale.' It derives from the Bovo Bukh by Elia Levita Bakhur which tells the incredible adventures of Bovo d'Antona, a Jewish knight. The story itself is based on an English chivalric romance. The Yiddish version, written more than 500 years ago, was so well known amongst Yiddish speaking Jews in Europe that the term Bove-mayses (fantastic tales) came into existence which then turned into Bobe Mayses in current eastern Yiddish.
Funded by the German Federal Cultural Foundation




>> www.kulturstiftung-des-bundes.de
Yidishkayt Revisited!
July 18 - August 16, 2015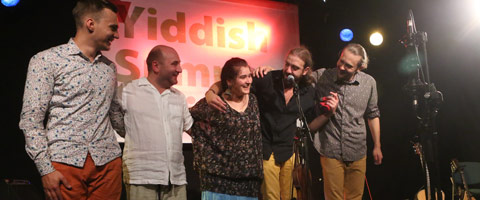 This year's Yiddish Summer Weimar came to an end with concerts that could have hardly been more different from each other: the Polish band Caci Vorba brought the audience to its feet dancing and the Vienna Jewish Choir inspired storms of applause with traditional Yiddish song repertoire. A spectacular finish to four intensive weeks!

4,500 people came to our concerts, jam sessions, lectures and film series. 320 people from 25 countries participated in 10 intensive workshops and numerous short workshops and took new insights and skills in Yiddish culture back to their homes.

We'd like to thank all of the participants and audiences for being so open to our workshops and other events and for sharing their own knowledge and experience with us. We'd also like to thank the whole Yiddish Summer team and all of this year's volunteers - more than 30! - for their dedication to making things run smoothly. Finally, we thank our supporters and partners, without whom Yiddish Summer would not have been possible.

On the wings of the success of Yiddish Summer 2015, we're already getting ready for next year's festival. From July 6 - August 13, Yiddish Summer 2016 presents "Bobe Mayses? - European Legends and Yiddish Border-Crossings." New additions to the program include a theater project, a dance project and a scholarly conference. More information is coming soon. We hope to see you again soon in Weimar!

Photo: Caci Vorba – Adam Berry
Welcome to Yiddish Summer 2015, the intercultural Yiddish Culture festival. To celebrate our 15th anniversary, this year's special topic is Yidishkayt Revisited.

In its thousand-year history, Yiddish culture has spread from Western Europe to Eastern Europe, to North and South America, to Israel and Australia, even to China and Japan. Wherever it went, it changed the surrounding cultures and was changed by them. A unique treasure chest of history - will you join us in unlocking it?
Workshop Weeks (Workshopwochen)
From July 18 to August 9, we offer beginner through advanced workshops in Yiddish instrumental music (klezmer), vocal music, dance, language, and more, taught by some of today's leading artists. With participants of all ages and from all around the world, Yiddish Summer workshops touch the mind, heart, soul, and body. You won't believe how much you can learn in an atmosphere that is so open and supportive! It's no wonder that many of today's most creative and successful Yiddish music projects have roots in Yiddish Summer Weimar. Concerts, jam sessions in outdoor cafés, Yiddish dance events, and more contribute to the justly famous "Yiddish Summer Weimar" atmosphere during the Workshop Weeks.

Festival Week (Festivalwoche)
From August 11-16, Yiddish Summer Weimar is designed especially with visitors to Weimar in mind. The evening program features a concert series with world-class artists and late-night jam sessions. The daily program features exciting events for the whole family, with something for all ages and levels of experiences. You can try whatever you like as often as you like: hands-on, mini-workshops in Yiddish language, klezmer music, song, dance and literature, even Yiddish cooking, a Jewish documentary film series, and more. There's also a Youth Klezmer Orchestra and a children's program.
See you in the summer?
We invite you to explore the website! You'll almost certainly find something you like. Please write to us or call us if you have questions and we'll try to guide you. We hope to see you at this year's Yiddish Summer Weimar!