Concerts

Jul 22 Wed 7:30 p.m.
Chazzanut Music – Jewish Liturgical Music
Jul 24 Fri 8 p.m.
Jacob-Ber Gimpel's Lemberg Yiddish Theatre
Jul 25 Sat 8 p.m.
Final Concert: Yiddish Song Workshop
Aug 1 Sat 5 p.m.
Far dem nayem dor – For the New Generation
Aug 7 Fri 11 p.m.
Kràsa Stringquartett & Alan Bern – Dreaming with Morton Feldman
Aug 8 Sat 8 p.m.
What is "klezmer" actually?
Aug 9 Sun 11 a.m.
Final Concert: Yiddish Children's Songs Workshop
Aug 9 Sun 8 p.m.
Final Concert: Traditional Klezmer Workshop
Chazzanut Music
Jewish Liturgical Music
July 22, 7:30 p.m. @Musikschule "Ottmar-Gerster"




Final concert of the Master Class given by Cantor Israel Goldstein @the Abraham Geiger College in Berlin. With: Shulamit Lubowska, Yuval Hed, Amnon Seelig, Svetlana Kundish, and pianist Masha Yulin.
A rare opportunity to hear the finest young generation of cantors today in Weimar. Israel Goldstein is the director emeritus of the Hebrew Union College School of Sacred Music in New York.
The anounced Jam Session, July, 22, will therefore not take place.
Jacob-Ber Gimpel's Lemberg Yiddish Theatre
July 24, 8 p.m. @Musikschule "Ottmar Gerster"
Admission: 19,50 €/10,50 €
Reservations: support@othermusic.eu
>> Tickets online


Jacob-Ber Gimpel's Lemberg (Lviv) Yiddish Theatre was the first permanent and most important Yiddish theatre in the world.
The Theatre gave performances from 1889 till the begining of the Second World War. read more
Final Concert: Yiddish Song Workshop
July 25, 8 p.m. @Musikschule "Ottmar Gerster"
Admission: 19,50 €/10,50 €
Reservations: support@othermusic.eu
>> Tickets online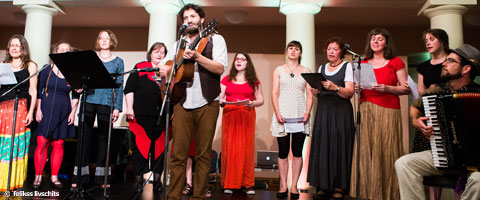 Every year, the final concert of the Yiddish Song Workshop creates an especially warm and openhearted atmosphere. How could it be otherwise, after the participants have spent a week immersed in gorgeous melodies that sing of love found and lost, hopes and dreams fulfilled and shattered, the sweetest pleasures and the bitterest disappointments of life? read more
Far dem nayem dor – For the New Generation
Concert and CD presentation with Yiddish children's songs
August 1, 5 p.m. @mon ami
Admission: 8,- €/5,- €
Reservations: support@othermusic.eu
>> Tickets online



Cover: Mirella Frenzl
The extraordinary Yiddish Summer Weimar children will present their first CD, "Far dem nayem dor – For the New Generation". read more
Kràsa Stringquartet & Alan Bern (piano) – Dreaming with Morton Feldman
Piano & String Quartet (1985)
August 7, 11 p.m. @Musikschule "Ottmar Gerster"
Admission: 10,- €/5,- €
Reservations: support@othermusic.eu
>> Tickets online


Morton Feldman (1926-87) was a close friend and associate of John Cage. Like Cage, he explored composing as a way of enabling sounds to be heard for themselves rather than to express a composer's own personal, dramatic narrative. read more
What is "klezmer" actually?
Concert & Discussion with Alan Bern, Joel Rubin and other Yiddish Summer teachers & artists
August 8., 11 p.m. @Musikschule "Ottmar Gerster"
Admission: 9,50 €/6,50 €
Reservations: support@othermusic.eu
>> Tickets online


Klezmer, klezmer, klezmer... everywhere klezmer! But what IS klezmer actually? Bay mir bist du sheyn? Moscow Nights? Hava Nagila? The German National Anthem??? Is it folklore? Is it classic? Is it jazz? read more
Final Concert: Yiddish Children's Songs
Olke mit der bloyer parasolke … Olke and her blue sunshade
August 9, 11 a.m. @Musikschule "Ottmar Gerster"
Admission: 5,- €/3,- €
Reservations: support@othermusic.eu
>> Tickets online


The teacher and writer Kadia Molodowsky wrote poems for children, especially for those with little to call their own – little security, little education and often enough little attention and care.
Her poems and stories were meant to make daily life easier for children in difficult times. That's why... read more
Final Concert: Traditional Klezmer Workshop
August 9, 8 p.m. @Musikschule "Ottmar Gerster"
Admission: 19,50 €/10,50 €
Reservations: support@othermusic.eu
>> Tickets online


World premiere! This concert presents music based on rare, previously unknown, pre-WWI klezmer recordings from Eastern Europe, brought to Weimar by master clarinetist and internationally renowned klezmer scholar Joel Rubin. read more