Opening Day YSW 2015
July 18 Sat 12 p.m. @OMA
Admission free

To mark the 15th anniversary of Yiddish Summer, we invite you to a very special evening of theater followed by a klezmer music/Yiddish dance party. Starting at 7:00 pm, Martin Thom's Theater Magica performs its critically acclaimed piece, GOLEM, inspired by the Jewish legend of the same name. With music by Johannes Paul Gräßer, the show is a feast for the ears as well as the eyes.
Directly following the performance, we invite you to celebrate our 15th anniversary with us at a klezmer music/Yiddish dance party, with music by rising stars "Sher on a Shier" ("never-ending dance"). Dance any way you feel, or let yourself be guided by experienced Yiddish dance leaders.
You'd like to arrive in Weimar in the afternoon, catch your breath, maybe have something to drink and meet up with friends you met last year? The OMAcafé in the Other Music Academy (Ernst-Kohl-Strasse 23) will be open starting at noon, and it's the perfect place to sit, chat, reflect before jumping into all of the Yiddish Summer Weimar events.
Golem
Silent Theater with Live Music
July 18 Sat 7 p.m. @mon ami
Admission: 19.50 €/10.50 €
Reservations: support@othermusic.eu
>> Tickets online


3 episodes in the myth of the creation of a guardian figure
I The creation
II How the GOLEM came into the world according to the Rabi Löw legend
III The new GOLEM

In Hebrew, GOLEM means without shape or form. In medieval Jewish philosophy it also meant material, fabric, clay. The GOLEM figure itself as it appears in Jewish legends and folk tales is a myth that is interpreted in many different ways. read more
Sher on a shier
Klezmer concert and dance
July 18 Sat 9 p.m. @mon ami
Admission: 19.50 €/10.50 €
Reservations: support@othermusic.eu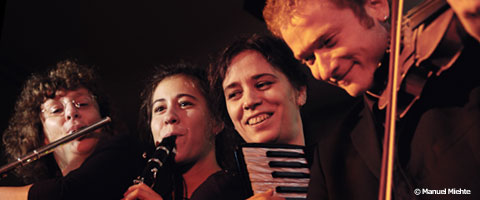 "Sher on a Shier" is a Yiddish term that loosely translates into English as "the never-ending dance".

"Sher on a Shier" is an ensemble of musicians who have been searching tirelessly for the perfect Klezmer sound. read more