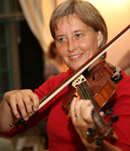 Annette Siebert (Germany; violin)
Annette Siebert fell in love with Klezmer music on the search for forgotten, but not truly forgotten, sounds from her childhood.
Her Violin studies in Hannover did little to help her reach this goal, but did lead to professional experience in chamber and church music, as well as national and international concerts and violin teaching.
Only with her discovery of traditional Klezmer music did her original passion find a way to connect heart, mind and body while performing – Weimar became the place where her interests found a multifaceted offering of experience and where she found inspiration.
Additionally, she expanded her approach to learning and making music through training in kinesiology (3in1).
She performs as a Klezmer musician with her longtime Trio Oyftref, and has recently begun performing with Di Finkelstein Kapelye (together with Franka Lampe, accordion, and Thomas Siebert, wind instruments) as well as teaching at various workshops.
Collaborative concerts of her duo animando 2plus together with Duo Wajlu as well as Kurt Björling have worked to blur the boundaries between classical and Klezmer music.