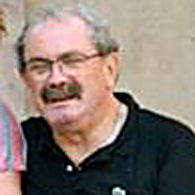 Salomon Bielasiak (France)
Salomon Bielasiak was born in 1948 in Lodz, Poland. He is married and has two daughters and six grandchildren. He is an honorary advocate at the bar in Paris. He speaks Yiddish, Polish, French, English, Russian and Hebrew.

As a child Salomon learned the Yiddish language and Jewish history in the secular Jewish school in Lodz. In 1955 his father took him to see a Yiddish-language performance by the Jewish National Theater Company – an experience that had a great and lasting influence on his love for the language and songs.

When he moved to France with his parents in 1957 Salomon continued learning Yiddish with the best teachers in Paris. From 1961 to 1968 he regularly recited Yiddish poetry, for example every 19th April in honor of the heroic fighters in the uprising in the Warsaw Ghetto. He also performed on stage and read Yiddish poetry for broadcasts to eastern European countries.

In 1988 he began collecting Yiddish songs and recordings, building up a very important collection.

From 1971 to 2008 he was an advocate in the Appeal Court in Paris, and since 2008 has been an Honorary Advocate of the same court.

He is an active member of a collective of five Jewish cultural associations in Paris and is working towards getting the Purim-Shpil acknowledged as a symbol of Yiddish culture by the UNESCO. Other ambitions include writing a book about the life and career of the most important Yiddish singers, and creating a conversation workshop in Yiddish in Deauville (Normandy).

He has spoken at numerous festivals, including the Yiddish Festival in Douarnenez (Brittany) and the festival of Jewish Culture in Paris, where he popularized Yiddish song and literature. He is also on the committee of the CRIF (Representative Council of Jewish Institutions in France), where he reports on the latest news in the Yiddish world.

Salomon regularly visits festivals and competitions around the world, including Weimar, Fürth, Berlin, Amsterdam, Leeuwarden, Vienna, London and Israel where he loves discovering new talents in the area of Yiddish song who he can invite them to perform in Paris and Deauville. He speaks Yiddish, Polish, French, English, Russian and Hebrew.