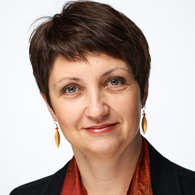 Evita Wiecki (Poland/Germany; )
She was born in Warsaw, has been teaching Yiddish for 15 years.
She has been a Yiddish lecturer at the Ludwig-Maximilianus University of Munich since 2009. As well as teaching the language, she offers her students many chances to become acquainted with Yiddish culture and literature. She focuses on practical projects in her teaching; for example she is currently working on reading and evaluating a DP (displaced persons) newspaper published near Munich.
In Regensburg, together with a group of students she translated Joseph Opatoshu's novel "A Day in Regensburg" into German. She is particularly interested in Yiddish forms of education, and she is researching the history of Yiddish schoolbooks for her PhD.