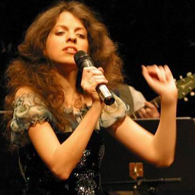 Alexandra Somish is a Yiddish singer and performer from Lviv, Ukraine. She is one of the leading actors of the Lviv Jewish Theatre "Debut", founder and bandleader of "Varnitshkes", and administrator of the "LvivKlezFest" festival, which is organized by AUJCF "Hesed-Arieh".

Alexandra was born in Lviv in 1980. She holds a a Specialist Degree in philology and folklore from the Ivan Franko National University in Lviv.
In 2001 she became lead singer of the «Lviv Klezmer Band». The band became involved in the filming of the documentary «Der stille Bug» (2004) which was produced by German TV channel ARD, and they appeared at the movie's release in Cologne and Bonn.

At the same time Alexandra tours extensively performing Yiddish songs in a duo with Tatiana Kislenko and her husband, Alexey Darmodekhin, in the duo "Anakhnu".

In 2007, she created the vocal and instrumental ensemble «Varnitshkes». This Jewish song-oriented band is aimed at attracting the younger generation to Yiddishkayt culture. The band performs successfully in Ukraine and abroad, for example in Poland, Germany, Austria, Italy, and Russia.

In 2008, Alexandra studied as part of the Uriel Weinreich Program in Yiddish Language, Literature, and Culture in New York.

Since 2001 she has taken an active part in klezmer Forums in St. Petersburg, Kiev, Moscow, London, Kharkov, and Kazan. She and her ensemble also took part in the EUROPEAN JEWISH CHOIR FESTIVAL in Vienna (2013) and Rome (2014).

Alexandra has won various awards at Jewish music and theater festivals, among them "Hatikva" (Kiev), "Light a Candle" (Moscow), "Chernihiv Autumn" (Chernihiv), and at the festival "Constellation of Lion" (Lvov) where she was voted best woman actor in the play "Shosha".