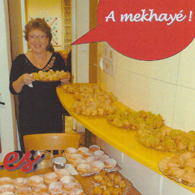 Paulette Bielasiak (France)
Born in 1947 in Landsberg am Lech, Germany, Paulette Bielasiak is married, has two daughters and six grandchildren, and speaks fluent Yiddish.

She is a director of the Medem Center Arbeter Ring, Paris, where she has been giving Yiddish cookery workshops since 2008.
Since 2010 she has been a director of the Deauville for Jewish Culture, where she is responsible for event planning and writing the newsletter. She writes reviews of Yiddish cooking and organized a Yiddish cooking workshop for children during the Festival of Jewish Culture in Paris.